Description
Workshop Registration
Date & Time
Aug. 23: 10:00 am - 12:00 pm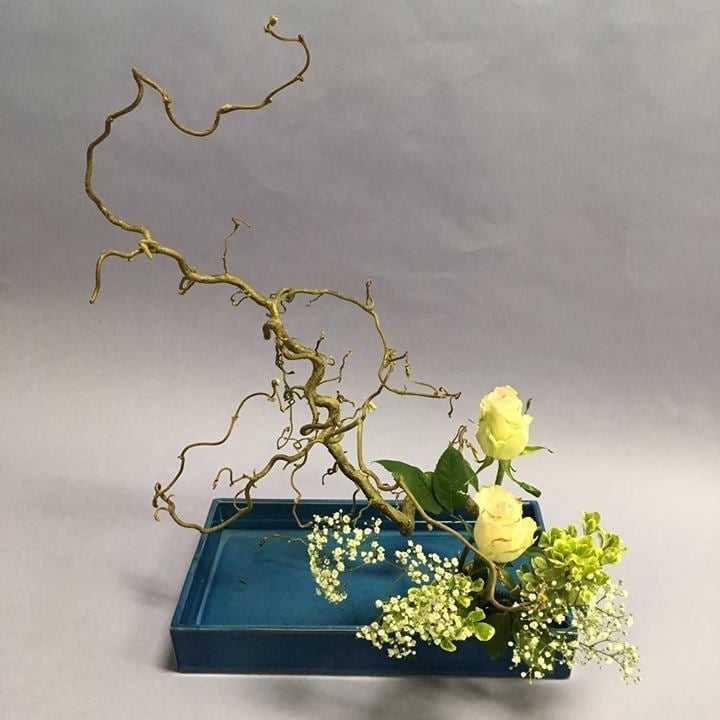 Ikebana Workshop: The principles of KYOKU SEN, Curved Lines "Lively Motion"
Join Valeria Brinkers from the Sangatsu School to learn how to make an arrangement using the kenzan, also known as a pin frog, and a suiban vase (flat vase). You will practice expressing the materials in a clear sense of motion and direction, studying them carefully to find the best angle and aspect of each element.
This interesting study expresses the beauty of branches flowing and dancing in the wind.
You will learn how to choose materials which are light and buoyant, with great flowing curves or angles which gives a feeling of lively motion.
No prior experience is necessary. You will leave the class with a beautiful arrangement as well as your own ikebana scissors, pin frog and vase to continue your practice.
Valeria Brinkers is a professor of the Ikebana Sangetsu School and former President of Ikebana International Los Angeles Chapter. She received her jyo-kyoju title in 1993 from the Headquarters of Sangetsu in Japan. She continued to progress with her studies and earned her second level certificate as an assistant professor in 2010. In 2017 she was awarded with the title of professor. She is very active in various community events, classes, workshops and exhibits and organized the Ikebana Show at Sherman Library & Gardens in March 2022.
$140 members and $155 non-members
20 max in class